Silent Majority was a Melodic Hardcore band from Long Island that existed from 1990 until 2000. The members have since gone on to form such bands as: Advent, Glassjaw, Bayside, Clockwise, Blood Red, Inside, Heads vs. Breakers, Capital, Bastard Cut, and The Otters.

Silent Majority - Polar Bear Club
Biography
Edit
Silent Majority
started as a joke band that practiced in Tommy Corrigan's basement after school. The band had their first practice on December 26th, 1990; which was also the day after they first got their instruments. In 1998, Silent Majority performed at the
Initial Records
run
Krazy Fest
, which took place in Louisville, Kentucky from May 29th to May 31st, 1998 at the Louisville Brewery Thunderdome. They played Krazy Fest II the following year in Kentucky from May 19th to May 21st, 1999 at the Riverfront Plaza/Belvedere. Soon after, the band departed on their "Mini Me" tour with fellow
LIHC
band,
Kill Your Idols
. At this time, Silent Majority left
Wreck-Age Records
and decided to release their new EP on
Initial Records
.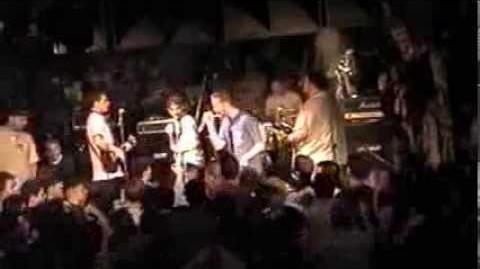 Tommy Corrigan (Vocals)
Nick Ghambarian (Bass)
Rich Jacovina (Guitar)
Ryan Heyner (Guitar)
Ben VanDyke (Drums)
Former Members
Edit
Discography
Edit
This Island Earth 7" (Reservoir 1994)
Distant Second 7" (Reservoir 1996)
516: Long Island Hard Core Compilation (None of the Above 1996)
Life of a Spectator (Exit 1997)
Based on a True Story (Exit 1997)
You Would Love to Know (Initial 1999)
Welcome to New York, Now Go Home comp (Bittersweet Records 1999)
The Dynamite Rose Comp 7" (Shotdownstars Records 2000)
Lead singer, Tommy Corrigan has no relation to Sean Corrigan, lead singer of Indie Punk band, All Grown Up.
Nick used to work at Abercrombie. Tommy worked in a Tattoo studio. Rich worked in a hardware store.
The band Polar Bear Club borrowed their name from a Silent Majority song on Life of a Spectator.
Silent Majority recorded and released a cover version of The Cranberries' song "Salvation" on the obscure Dynamite Rose comp 7", which was pressed to commemorate a wedding and also featured Good Clean Fun, Milhouse, '65 Filmshow, Eulcid and Atom and His Package.
Crime in Stereo covered the "Life of a Spectator" album at Today's Mixtape Fest on April 5th 2013.
End Notes
Edit
Paste PunkInterview
Silent Majority (Unofficial) myspace