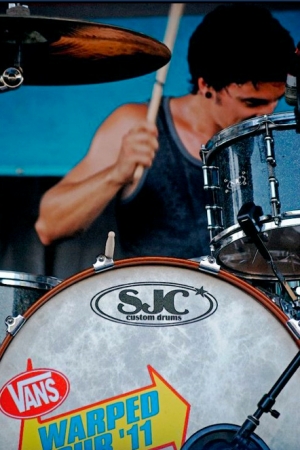 Jeremy (Jay) Scalchunes
is a freelance drummer born and raised in Long Island, NY.  He may be known for formerly being the drummer of
experimental alternative
band,
Life Between Sleep
. Before that, he was in a hardcore band based out of Long Island called
Days on End
.
During his time in Life Between Sleep, Jay acquired a drum sponsorship from SJC Custom Drums and continues to play for them today.  You can check out Jay's SJC artist page by clicking here. While in Life Between Sleep, Jay took part in many different festivals all around the east coast including Warped Tour, Bamboozle and opening up for Avenge Sevenfold at The Rockstar Taste of Chaos festival at Nassau Coliseum.
In early 2011, Jay parted ways with Life Between Sleep.  He wasted no time by going on a 6 week, full US tour playing drums for Long Island natives, The Narrative on the Vans Warped Tour . While Jay was home finishing his education in late 2011, he filled in, as a live drummer, for Long Island indie natives, Family Lumber .
In mid 2012, Jay played on The Narrative's latest full length record produced by Bryan Russel (Coldplay, Dream Theatre, Paul Simon, Envy On The Coast, Straylight Run).  Following the recording of the record, Jay went on a one week, East Coast winter tour with The Narrative. 
In July of 2013, Jay was called to play on Texas based pop band, The Vantage, full length record produced by Rob Freeman (Hit The Lights, Armor For Sleep, Hidden In Plainview), which is set to be released in 2014. A few months later, the band flew Jay out to Austin, Texas to take part in a string of South By South West shows.
Presently, Jay is home pursuing and recording original music, as well as playing drums for fellow Long Islanders, The Como Brothers Band.
Click here to check out Jay's youtube channel
If you would like Jay to play drums for you, he can be reached at jayscalchunes@gmail.com